When do german shepards stop growing?
by Sarah-Lou
(Dublin, Ireland)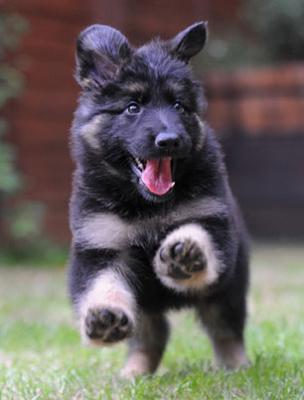 When do german shepards stop growing?
When do they stop growing??
He's only four months and already he can stand up and open doors in the house I'm only 5f 1" and when he jumps up he nearly knocks me down his head is up to my chin when he jumps up.
He's getting to big for the house so i bought him a kennel but he will not stay in it at night i have to small kids 2yr and 4yr im afraid he will knock them down and hurt them??
Sarah-Lou
Total German Shepherd
:
Traditionally German Shepherds grow for quite a while. As far as height goes you can usually expect them to reach adult height by around 11 - 13 months, howeverrrrrr, they will continue to "fill out" for some time to come.
Female GSDs fill out until they're about 2 years old or so, and for males, closer to 3. So, you can easily expect your GSD puppy to grow for a while. Good luck!