When Will My German Shepherd Puppy's Ears Go Up
by Ileana
(New York)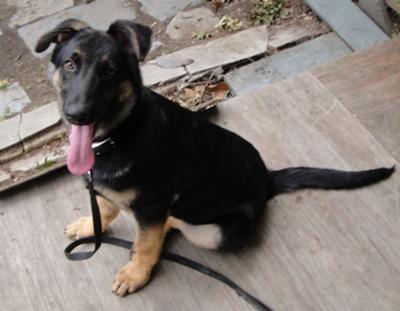 I have a 4 months old cute German Shepherd puppy named Rambo. I've had him for two months and, during this time, he went from 10 pounds to 40 pounds.


He is so big now and getting more handsome as he grows. The only problem is that he won't look like a true GSD without his ears up.
BTW, my pup is ACA registered and I know for a fact that he is a purebred puppy. How long will it take for Rambo's ears to go up? Are there GSDs whose ears don't go up?
I am attaching a picture of Rambo, taken a few days ago.
Total German Shepherd
: Most German Shepherd puppies ears go up before they're 4 to 5 months old. But that's not always true for all German Shepherd Puppies.
Some
German Shepherd puppies
need additional attention and in that case you can try to help them up by
taping up your German Shepherd Puppy ears
. Think of it in kind of the same way as "training wheels" for kids just learning to ride a bike if you'd like. Only these taping are helping to train the ears to stand.
And sometimes, even after trying all of this, the ears of a German Shepherd Puppy may not stand on their own. That's just the way it is and this is called soft ear.
My suggestion to you would be to talk to your breeder or vet about how to tape up your German Shepherd Puppy's ear right now or read the article on this site about
taping German Shepherd Puppy ears
right now. Good luck.