Why does our 9 week old German Shepherd puppy whine/cry when we walk him anywhere?
by Diette
(Blanchard, Mich.)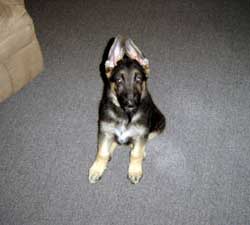 We have recently bought a 7/8 week old GSD puppy,(he is now 9wks old) our 1st GSD. His name is Ace, but when we take him for walks, he will whine and cry and stay right under your feet.

Why is he doing this?, and is there anything we can do to stop this behavior?