Why is my male GSD so timid and scared of everything?
by Bianca
(PSL FL)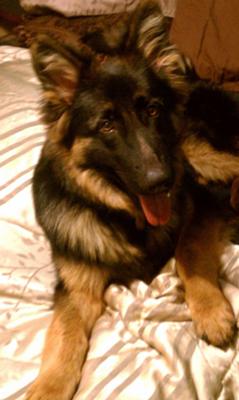 Max
I have a 9 month old GSD that is in the house, gets taken on walks, in the car for trips to petsmart and open fields (with no other dogs there) where he can run and play, dog parks, the beach, and yet he wants nothing to do with anyone other my immediate family.


I'm not sure if it has to do with his age or what, but he is so skittish around new people. He doesn't bark or growl, but just walks away from them and if they come after him he will actually run with his tail between his legs.
I got him when he was 4 months old and he has never been hit or had anything traumatic done to him. It is like he has two personalities. One at home - playful, cuddly, funny, assertive, outgoing and another when others are around.
He doesn't EVER bark or growl. I don't understand. I try to put him in new situations to socialize, like take him downtown but he just doesn't change his behavior.
The only thing I can attribute it to is my pom who is dog aggressive and growls when he comes near her, but she is 8 lbs he usually try to play with her a little or walks away, never aggressive....
I have even started taking them on walks together where they both heel on either sides of me and they are fine with each other the whole time... I spoke with a different trainer who said that he has a confidence issue that needs to be resolved immediately, I dont know what to do...
Total German Shepherd
:
It sounds as though you're doing the right things. You mentioned that you got him when he was already 4 months old and I suspect that that has much to do with the fact of his being shy around other people and animals, etc.
Not knowing his background at around 3 weeks of age until you got him it sounds to me as if he was not properly socialized as a very young puppy with other people, animals and things.
Young
puppies, especially around 3 to 5 weeks or so of age are often very interested in new people and things and this is the perfect time to subject them to loads of new stimuli - like new people, animals and places and objects. This makes them much more willing to be around other things as they mature - for one thing, because they already have had many experiences with new things.
Now very quickly after this period of time has emerged they will enter into a fear period - usually around about the age of 6 weeks or so. And when this happens, it is called the fear period by many, for some puppies it may be so strong that it completely overcomes their desire to meet new people, things, etc and even cause them to be so fearful that they are basically just the opposite of their earlier curious selves.
Early, early socialization is so important for this very reason. And in many dogs/puppies, if a puppy is not exposed to goats, other dogs, cats, horses, small children, etc before it reaches around 12 weeks of age, it is likely it will never accept them easily. And this may be the issue at the heart of your GSDs issues with new things.
Or it may be that your puppy just needs much more exposure and more work in this area. Who can say for for without knowing the entire situation? Temperaments vary from dog to dog and yours just may require a lot more work and patience in this area.
So if I were you I would keep doing what you're doing. Don't coddle the puppy - be confident and sure of yourself and teach your puppy to be the same. If you baby it when it balks at new things you will only make it worse. Just take it slow and be patient. Sign yourself and your GSD puppy up for as many training classes as you can and continue the socialization exercises - build its confidence and you will build a better GSD and make its future (and yours too) so much happier. Good luck!