Why White Paws GSD?
by Abdullah Khan Azad
(Kandahar)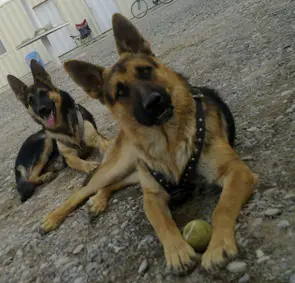 My GSDs
Hello Dears!
I have a female GSD " LOONA" her paws are white only the feet not the complete leg,,Although her sister is pure in every aspect,,Please tell me that are the white paws in GSD is any defect?? and why??
Thanks
Total German Shepherd
:
The color white has been a part of the German Shepherd breed since it was first developed over 100 years ago. In fact, the first registered GSD, Horand von Grafath, had a maternal grandfather (named Grief) who was white.
So it is not uncommon for the white color to show up from time to time in otherwise "regular" colored German Shepherds - like black and tans, black and reds, sable and even blacks.
I wouldn't think anything of it if I were you - it just adds more individualism to your own German Shepherd making your dog even more of a one of a kind work of art. Gorgeous GSD's BTW!