Willow The Adventurous Black GSD
by Kimberley
(Leeds, England)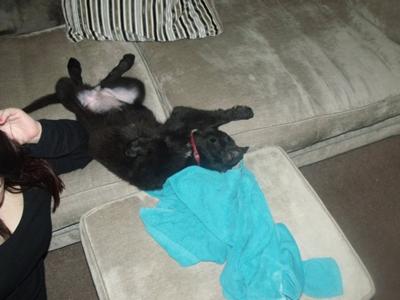 Willow Loves to Sleep
Willow is now 4 months old and growing so quick! We have had her since she was 9 weeks old, and she has gone from being a shy cautious puppy to an adorable welcoming friend.


She has a brilliant friendly nature and loves giving high 5'. She will sit and lie down (most of the time) when told she doesn't quite understand stay just yet which proves to be a nuisance when I am trying to mop the kitchen floor!
She is an active adventurous little pup and always wants to play!
She likes to sleep and lounge around on the sofa and loves lots of kisses and cuddles! We often find her sprawled out anywhere she can find in the same pose from the picture
Willow enjoys going for long walks and is never quite sure what to make of the ducks in the park.
Willow enjoys the garden and digging DEEP holes everywhere! Always being mischevious and trying to climb into our vegetable patch which now has a huge fence around to protect the plants from being trampled... She knows she isn't allowed in there but is always trying to figure how to get in and if she does hides under the rhubarb thinking we can't see her!!
I feel so mean when she has to be left alone at home but love how excited and happy she is when you come back, she even gets excited if you leave the room for 5 minutes.
Getting a GSD was an excellent decision and glad I overcame my reluctance. They are such nice dogs and my only regret is wishing we had got her sooner!
Total German Shepherd
:
Hello Kimberley, and thank you so much for sharing your great story about your wonderful Adventurous Black German Shepherd puppy Willow. What a great name too! And I do agree with your statement - "... GSD ... are such nice dogs". Hear, hear!
It's always nice to hear about all our little black German Shepherd pups out there. We love them all - good luck with Willow in the future!