Zak
by Andii-lee adams
(Coventry UK)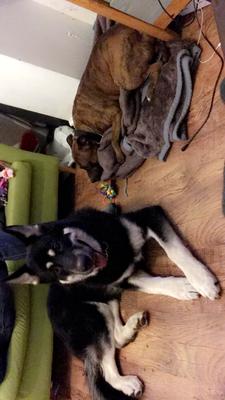 Zak's first night with us
So we where looking at getting a new dog to complete our home, when we came across Zak a 9month old GSD , he needed urgent rehoming because his owners Health had gotten that bad that he couldn't walk him anymore.


So we arranged to go and get him.
3days later and it's like we've never been without him, our children are 2 years old and 6 months old and he loves them and they love him our other dog is a Staffordshire bull terrier and he loves having a pup to run around with. He's a really cheeky pup, he loves to be playful and loves sneeking into bed right between us at night the only problem is he's HUGE!
We love Zak!