Zeke the German Shepherds Rescue from a Kroger Parking Lot
by Kelly
(Nashville, TN USA)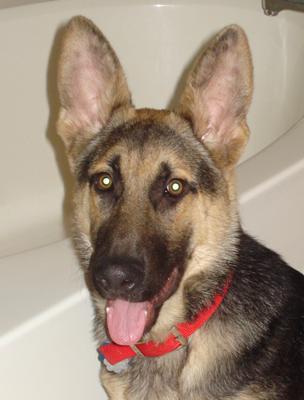 Zeke
My husband and I were semi-new to the area of Nashville, TN. We had just moved into our first house and were looking for the nearest grocery store.


Google led us to the nearest Kroger in Bordeaux, a suburb outside of Nashville. It didn't take long for us to realize it wasn't the best part of town, but we had driven the 20 minutes to get there and decided it was pointless to turn around.
As we were walking in, I noticed a young dog trotting up to each and every person and family, only to be kicked or shooed away. Upon closer observation, he was completely filthy, emaciatingly thin, and very sickly with what appeared to be mange.
It tugged at my heart, being an avid dog lover and seeing not only this poor dog in such bad shape, but to see these cold heartless people treating him so badly.
My husband could see the look of desire in my eyes, but he reminded me of our new clean house and the realistic reminders that we didn't need another dog, especially one so sick. So, he led me into Kroger and we did our shopping. I secretly hoped he would still be around when we walked out to the car, because the guilt would have killed me.
Sure enough, he was still trotting around, going up to every stranger with a wagging tail, only to be dismissed coldly or ignored. I told my husband we HAD to take him, at the very least to a shelter to get him the help and attention that he needed.
I leant down to see if he would come to me. He came right over and looked up at me with these beautiful brown eyes, as if to say, "Please help me." I loaded him into the back of my Lexus SUV, unsure really how he would act or if he would take well to driving around.
He sat contently in the back seat as we drove home. We kept him in the garage overnight and took him to the vet the next day. Upon examination, it was determined he had severe mange on his ears, face, legs, paws and tail. Four different kinds of worms, including heart worms, and was severely mal-nutritioned.
We realized it was going to be very expensive to keep this dog, but we just couldn't get rid of him, knowing that we were probably his best chance of survival. So to sum up, over $1000 later, 6 months of crate-training, general obedience training,and 3 $60 beds later, we have ourselves a full-blooded, healthy German Shepherd.
He keeps us busy, but it's a small price to pay for knowing that we have given him a life and a future and spared him from the horrible existance he experienced his first 5 months of life. The picture attached is obviously after his medical issues were addressed. He's a good boy.