Black German Shepherd Skin irritation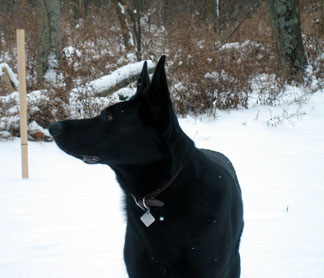 My 8 year old black German Shepherd has very sensitive skin and a sensitive stomach.
She is biting the upper back part of her body near her tail and her lower back leg. This is causing baldness and redness in that area.
The vet tells us it is a staff infection and has given me a special shampoo for it. It helps but the infection always comes back. Any suggestions?
Total German Shepherd
:
I'm no vet but it sounds as though your dog is having allergy issues which in turn is causing the biting and chewing and baldness issues because the problem keeps coming back.
Diet can be one cause and a hard one to figure out but there can be many other issues such as flea bites, scabies, mites, chemicals and so much more that are causing the itching.
Have your vet discuss these possibilities with you as well so you'll have a better idea of exactly what is going on with your dog.
Shampoos can help momentarily but if the problem persists then something else is going on and you need to find out what it is to solve the real issues to completely get rid of it.
Good luck - here's a page with more info on
itchy GSDs
Good luck