HAIR LOSS, ITCHING IN 2 MONTH SHEPHERD PUPPY
by Kel
(Manteca CA)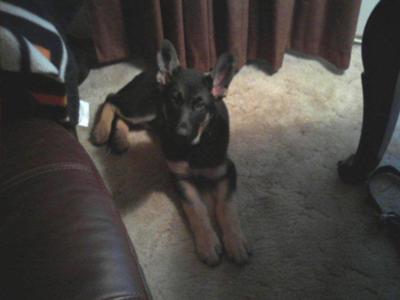 I JUST RESCUED A SHEPERD PUPPY TWO WEEKS AGO AT THE APPROX. AGE OF 6 WEEKS. SHE WAS ABANDONED AT A CAMPGROUND.


SHE WAS ITCHING WHEN WE GOT HER I TOOK HER TO THE VET THE FOLLOWING DAY TO BE CHECKED OUT. THE VET TOLD ME SHE HAD DRY SKIN AND GAVE ME SOME STUFF TO PUT ON HER FOOD.
SHE STILL HAS THE PROBLEM OF SCRATCHING AND ITCHING. I HAVE TAKEN HER BACK TO THE VET 3 TIMES SINCE. THEY HAVE TESTED FOR MANGE AND IT WAS NEGITIVE.
I HAVE CHANGED HER FOOD TWICE AND NOW SHE IS ON SOME FOOD THE VET SENT HOME FOR HER. SHE HAS LOST OVER HALF OF HER HAIR.
SHE HAS BEEN TREATED FOR FLEAS EVEN THOUGH THERE IS NO SIGN OF FLEAS. THE VET DOES NOT KNOW WHAT IS WRONG WITH HER AND HAS TOLD ME TO FIND A VET THAT SPECIALIZES IN ALLERGYS.
ANYONE EXPERIANCE ON THIS YOUNG OF A DOG WOULD BE HELPUL.
Total German Shepherd
: First of all, congratulations on rescuing your new
German Shepherd puppy
. You've done an incredibly sweet thing by doing that.
And continuing to try to help a dog in need is really a job well done in my book. Please hang in there just a bit longer until you can get this GSD puppies problem taken care of completely.
German Shepherds are well known for having
itchy issues
such as this but if you've already tested your German Shepherd puppy for fleas and for mange you've deleted 2 areas I would have told you to check into already.
Allergies are another issue all together and will require some time to figure out because there are so many different types that dogs can get - just like us. Food allergies, flea allergies, etc. But in the meantime....
You also mentioned changing the food several times. I wouldn't encourage you to do that much more at this time. If I were you I would add some supplements to the puppies diet - such as probiotics especially - which are really good for the stomach and digestive tract but also for the coat.
And your puppy is still small enough to bathe relatively easily so I would also get some shampoo made specifically for this issue such as
Oatmeal & Honey Shampoo and bathe your puppy on a fairly regular basis or as the instructions on the bottle suggest as your puppies skin has a chance to heal.
Good luck!