I am a first time owner of a GSD
by Melissa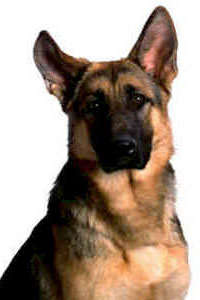 Hello. I love your site. I am a first time owner of a GSD and am in love. I can't see myself ever having another kind of dog. Too bad it took me this long to realize it! (I'm 42)


My female is 1.7 years old. She has always eaten Science Diet for Active dogs. I was wondering if it would be better to switch her to Eukanuba's GSD formula.
Also, she is a light eater on most days. I leave food out for her and she may eat a little in the morning and then eat more in the evening. She does not "wolf" it down, and tends to eat gingerly. Does this seem good? (She weighs 90 lbs)
On some days she will eat a cup of food and on other days she will eat her 3 cups of food in the bowl and then push her bowl around requesting more. What would you do?
I do worry about bloat and also don't want her to be overweight. Thank you for your reply.
Total German Shepherd
:
You can
change the food
but if she is doing well on the Science Diet and there are no health or financial reasons, etc for the change, other than the fact that you think she might do better on a GSD specific diet I really wouldn't worry about making a change just for changes sake.
But if you have checked and the Eukanuba is a much better food than the other and you want to give it a try you can always buy a small bag as a trial and use it as a treat or during training to see what she thinks of it. If all goes well you can change her over just make sure that you do it over the period of a few weeks or longer to keep from upsetting her digestive system.
And you said you were worried about bloat. Just keep her calm and quiet for an hour or longer after eating, don't feed her directly after strenuous activities and you should be okay unless her family has a history of bloating. Plus,
elevated dog feeders
help too. Good luck with your GSD.