Need a pet sitter?
Looking for a pet sitter or dog walker? Has this scenario ever happened to you? You just found out you have to go out of town.
You sit down at the table and your beloved German Shepherd comes to sit beside you and looks up at you with those big, adoring eyes.
What will you do with your dog while you are out of town?
You don't take the option of taking him on your trip with you this time - now what?
You are going to need a pet sitter. Now the question you need to answer is this ... just where can you find a good and trustworthy "petsitter" ?
There are many options for choosing a good dog sitter. If you have a neighbor whom you know well, you might hire him to watch your dog. Or, if your neighbor also has a dog, you could offer a trade: your neighbor watches your German Shepherd for you when you go on your trip, and you'll watch his dog when he leaves town. Perhaps there is a responsible teenager around who can keep an eye on things. Teens are often eager to pet sit to earn a little extra money.
But what if you just moved into your neighborhood and don't know anyone? Or perhaps you feel that your neighbors, while kind, just aren't that fond of animals? Or you simply don't want to inconvenience anyone on your block. Then you will want to widen your search. There are many professional dog sitters available to pet owners these days but it can be very hard to choose the right one.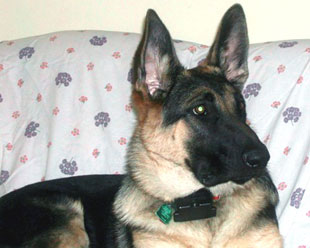 • One way to narrow the search is to ask your vet for a reference. You might also ask friends and co-workers for "petsitter" whom they have used successfully.
• Compile a list, and be alert for names that come up repeatedly as good pet sitters: they are most likely the cream of the crop.
• You can also find names of pet sitting organizations from pet stores as well as your local phone book.
• No matter how you obtain names of potential dog sitters, your next step is to narrow down the search by contacting each one and asking pertinent questions.
When you first call a pet sitter, pay attention to unspoken cues.
• Does she sound polite and professional? Is she willing to take time to answer your questions?
• Does she have a list of services and prices readily available for you? You will want to find out exactly what a visit to your home from this pet sitter will entail. If you want her to come three times a day, is she willing to do that?
• Will she walk your dog if you wish, and if so, is there an extra charge?
• Will she exercise your pup in the back yard or brush him?
• If your German Shepherd is on medication, is she willing to administer it?
•
Does she leave a daily log of her visits and how your dog was doing each day?
Ask for references from the pet sitter, and be sure and call those people to find out their experiences with the dog sitter. This will be a great time to get a real feel for how this person deals with dogs as well as their owners. If you get positive responses from your pet sitter's references, and you received good answers to the questions you asked her, it's time for her to meet your dog. Invite her over and note how she is with your pet.
Does she seem to enjoy meeting him? Does she pet him and seem to enjoy his company? Even more importantly, how does your dog respond to her? Does he seem comfortable around her? If he normally loves people but backs away from her, it's time to thank her for coming and show her the door.
Does your sitter ask good questions about your dog's daily routine? She should want to know who your vet is, where the dog food and leashes are kept, how often he is fed, when he is used to being let out, and so forth. She should ask for emergency phone numbers as well.
• Does she take notes or have a form available to help her remember what your tell her?
• Is she comfortable with you calling to ask how your dog is doing while you are gone?
• Ask how she handles return of your key and how you should let her know you are home again.
• In addition, what is her policy if you are unavoidably delayed (stuck in the airport, for instance) and can't get home when you planned? A good pet sitter will continue to come to your home until you call and let her know you are back again.
• Professional petsitters are usually bonded and insured. Be sure to ask.
After your face-to-face meeting, you should know whether this is a person you trust to care for your dog. If she is not, continue searching. If she is "the one", then great! Make arrangements to give her the key and get ready for your trip. Leave with a light heart, and know that while you are gone, your dog is being well taken care of, because you did your homework.
Return from Pet Sitter to Dog Walker


"A dog desires more affection than his dinner. — Well, almost!"--Charlotte Gray
Sign up for promotions, news, discounts, and the chance to win prizes for you and your German Shepherd