Purina weight circles - Donations For German Shepherd Rescue Organizations
Total German Shepherd no longer collects Purina weight circles donations - however, if you want to help out various German Shepherd rescue organizations throughout the US and abroad, please contact them directly and see if they use Purina foods and collect the Purina Circles themselves.
Everyone who uses Purina Pro Plan or Purina One or many other Purina dog foods should carefully save the weight circles from their bags to donate later.
You can find them near the top of the bags on the sides of the dog food bags. We have included some Purina weight circles (photo examples) below for you from several different Purina dog food products so you will know exactly what to look for.
---
Purina weight circles - donations for less fortunate German Shepherd and for GSD Rescue Organizations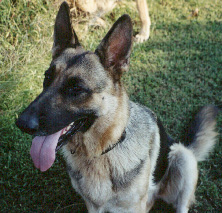 Thank you for your generous offer! We do have at least one foster family (and possibly more, I will check) who uses Purina for their fosters, so we could definitely use the food vouchers.
Mid-Atlantic German Shepherd Rescue, Laurel, MD
Acceptable Purina Brands - Weight Circle Donations
Pro Plan Performance brand Dog Food
Pro Plan Adult brand Dog Food
Pro Plan Puppy brand Dog Food
Purina ONE Adult brand Dog Food
Purina ONE Puppy brand Dog Food
Purina Dog Chow brand Dog Food
Purina Puppy Chow brand Dog Food
Purina Hi Pro brand Dog Food Kibbles and Chunks

Non Acceptable Purina Brands - Weight Circles
Beneful
Field 'n Farm Classic
Dealer's Pride
Field Master
Mainstay
We are so grateful! We do use the Purina foods! I also want to thank you for the Purina coupons. As a non-profit, all volunteer group, we need all the help, both hands-on and financial, we can get. The food coupons will be put to good use.,
German Shepherd Rescue & Adoptions, Greensboro NC

Please help us to help all the valuable GSD rescue organizations in their effort to save, give veterinary treatment, behavior and training help and eventual re-homing of each and every dog in their program. With your help in the saving of these tiny paper circles, we can all help so many less fortunate German Shepherds.
Return from Purina Weight Circles to GSD Trivia


"How's it going Mr. Peterson?" - Woody "It's a dog eat dog world, Woody, and I'm wearing milk bone underwear." - Norm from Cheers
Sign up for promotions, news, discounts, and the chance to win prizes for you and your German Shepherd