Reasonably priced german shepherd wheel chair?
by Nancy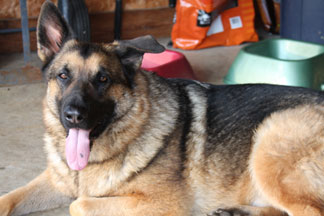 My 10 year old german shepherd was diagnosed in august with degenerative myelopathy. It so heart wrenching to see him drag his hind leg
He still has all of his cognative skills and has not messed in the house. Is there any place that I can try a wheel chair at a reasonable price? Thank You!!
Total German Shepherd
It is possible to buy used dog wheelchairs and there are many places where you can purchase them. I had a German Shepherd years ago who was in a wheelchair herself after receiving a back injury.
I researched around and finally got mine from
Doggon' Wheels
and they were overly helpful to me when I got my GSD Ally her wheelchair. I highly recommend them!
You can also find them on ebay and through several other dog cart makers such as:
Eddies Wheels
,
K9 Carts
and others.
Just got to Google and search for dog wheelchairs or dog carts and you'll find many manufacturers to choose from to help you and your boy.
You can read a little more about this here:
German Shepherds in wheelchairs