Trouble with my new German Shepherd
by Lindsey Pressey
(West Monroe, La USA)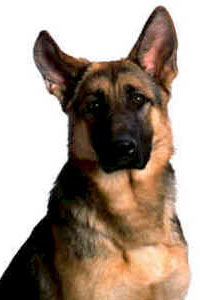 In February 2011, my husband and I got a German Shepherd for our children from the local shelter. We got her because someone had just dumped her off on the side of the road when they found her.


She was under weight and afraid of people and dogs and if you petted her she would flinch. We now have her at the weight she is to be at and she's a little more out going and doesn't flinch when we pet her. We've named her "Hex".
Hex is or was six months old when we got her, however we are having trouble with her learning to go outside to the bathroom, eating non food items or eating the cat food or cat pop, and she doesn't want to play all she wants to do is just lay around the house.
She gets walked twice a day, feed twice a day and watered and the kids do try to play with her (with dog toys and balls). she is taken out every hour to two hours, and we take her to the same area each and every time walking her. How can my husband and I help Hex.
Total German Shepherd
:
Bless all your hearts. No telling what your baby went though before you got her so please be overly patient with her - I imagine you're going to have to consider her basically as a 10 week or so old puppy in a 6 month old body because she is so behind developmentally speaking.
And yes, that does mean the
potty training
and
socialization
will need to be started asap and may take a bit longer just depending on how patient you are with her and how fast she picks up on things.
If I were you I would encourage you to check into signing her up for a puppy
training class
- it would be great for all of you - just make sure that you tell the trainer all about your GSD pups history that you're aware of and exactly what you just told me about her kind of "weird" habits.
What I would assume, and I haven't met her, is that she just doesn't know any better. I would imagine in many ways her experience with people was bad at best which is why she flinches so much - it will take her time to relax to the point that she won't do that anymore. And trust takes time so be patient and gentle.
And as far as eating the kitty poo and cat food and other things, I'll imagine that she's used to eating just whatever she can find. And that's what she is doing still I'll imagine. Boy, she sounds so much like the GSD puppy I just rescued a few months back. And some of the same habits almost exactly.
Hang in there with the
house training
- be patient and just treat her the same as you would a smaller puppy just beginning this. Take her out after each meal, after each nap, before you go to bed at night, first thing in the morning, etc.
And when you're on walks with her praise her like crazy if she "goes" while you're on the walk (once she's done) - and give her the command to pee or poo quietly as shes's doing it and give her a treat afterward. Then later you'll learn to read her signals (when she's about to go) and you can give her the command as she starts to do it. Practice, practice, practice. Then after a while you may even be able to get her to go on command.
And get a Dog Crate if you don't have one already - these are worth their weight in gold as far as housebreaking goes, plus they have a lot of other uses as well. I still crate my new puppy at night because he's not completely house worthy yet while we sleep.
I would advise that you have your vet give her the once over to make sure that there is no reason for her not playing more - and make sure that she is up to date on all her vaccines and wormers. But you know, it very well could be that she doesn't know how to play and completely missed out on that developmentally speaking.
Who knows, but maybe take her to a pet store and try out some other toys with her and see if she has a preference for something in particular. Then teach her how to play with the toy with you. My boy loves the
jolly balls
just like the past several German Shepherds I have had and you might want to check into those.
I do feel that given time and lots of patience that she will blossom into a great girl for you. Baby her for a while and over time you will be able to back off on that more and more and treat her more like whatever her true age is. But if you do have questions, please contact your vet or trainer too because they can help by giving you needed advice as well. Good luck.